The Importance of a
thoughtful UX Strategy
TV viewers today enjoy access to an ever-expanding range of content across all manner of platforms. The market itself is driven by two main differentiators – content and experience. Content may be king, but thoughtful navigation and seamless experience for users is essential to make that content easily accessible. An exceptional experience can be easily and completely controlled by Pay-TV operators and is determined by emphasising a meaningful strategy that prioritises the UX. As A result, navigation and experience could then well become a defining measure of success.
Understanding UX
In terms of the TV landscape, user experience or UX can be understood in terms of navigation, ability to highlight content and user journeys. Good UX should:
Guide users toward content they want to watch. Consumer research has shown that while content options continue to grow, viewers are typically looking for helpful, personalised suggestions and guidance from their platform.
Make sense of the chaos. Content catalogues are growing, and consumers typically subscribe to multiple streaming services. Successful operators need to act as aggregators on behalf of consumers.
Define the journey. There should be continuity across devices that ensures viewers can navigate a consistent interface with new technology like voice control and streaming boxes integrated where appropriate.
An Exceptional Experience
UX is an incredibly important consideration for PayTV operators given that content discovery on linear TV is far from ideal. IHS Markit's analysis found that when monthly users rated a video service highly for content discovery, they also gave a similar rating to the overall user experience: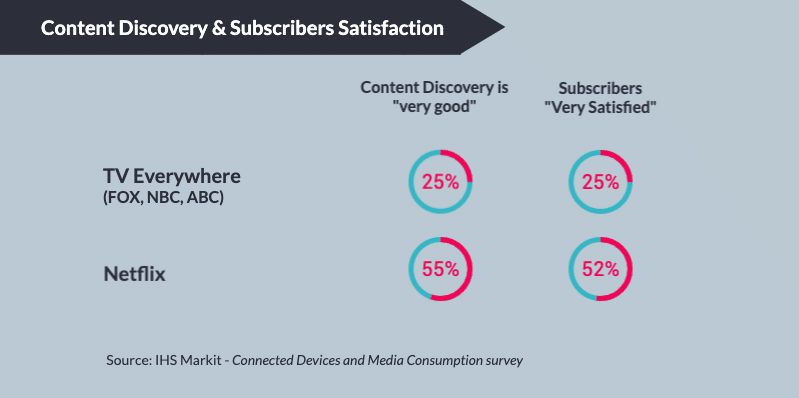 Ampere Analysis Consumer research has shown that viewers' perception of the user interface and navigation provided by their Pay-TV operator correlates to both the Net Promoter Score (NPS) and their spending with a provider.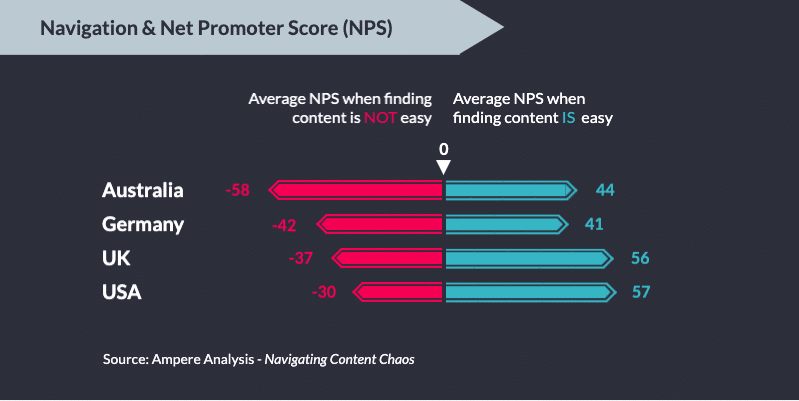 Perhaps most telling is the finding from the PWC report 'Streaming Ahead' that showed no matter what service, ease of use was the main reason for customers satisfaction indicating that experience can indeed supersede content.
Optimise Everything
Ultimately, an operator's goal is to retain subscribers and good engagement is one of the best ways to achieve this. Optimising content discovery and making the selection process as easy as possible is crucial when it comes to increasing engagement.
Good UX can be understood as a kind of virtuous circle – good UX means better content discovery, which leads to better engagement and more promoters, this, in turn, leads to an increased market share which means more robust analytics and an opportunity to improve the UX.
SVOD services heavily invest to build better UX and customer journeys, and these are the services that will ultimately drive and define new trends. In terms of current opportunities in the market, machine learning, recommendations and analytics are the primary domains being explored. The outcome of these investments will continue to shape the way we consume content.

Intelligent Consolidation
As it stands, operators typically offer multiple platforms through which subscribers can enjoy their content, at least via the STB and an OTT application. The logical course of optimisation is to merge all experiences into one, single UI. Of course, there needs to be an adaptation to account for different screens and context so the UI can be consistent on each and every device. Obviously, this removes the need to maintain multiple interfaces that can be both costly and time-consuming but it also allows operators to merge internal teams dedicated to the STB and OTT app interfaces and align them towards the same objectives.
In light of this, would it not make sense to unify all interfaces into a remote application that could offer both OTT services and control the STB at the same time?
An Accessible Option
ONTV is an intelligent and highly accessible alternative to conventional services that offers a unified and intuitive experience. The intelligence is transferred from the STB to the remote app, making the entire solution completely flexible and agile.
The analytics generated by the ONTV experience allow the solution to adapt and respond to new trends and preferences. All of the 'heavy lifting' is handled by the ONTV app rather than the STB, and new features can easily be implemented in the app and updated remotely.
Given that the STB is not modified, no new certifications are required which drastically saves time and investment outlay. In short, ONTV is an innovative and cost-efficient response to the challenges of dynamic and responsive user experience.

See how ONTV can help you transition to a unified experience here. (link)
Other articles you might like
ONTVLab was exhibiting at IBC 2019 in Amsterdam and our Strategy Director, Xavier de Solms, gave an interview to Julian Clover from BroadbandTVnews.

ONTV offers the most secure and cost-efficient hybrid solution on the market.

Disrupting the status-quo of the content delivery ecosystem, ONTV is welcoming recognition in the form of two CSI Award nominations